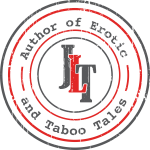 Welcome!
Welcome to my twisted little corner of the interweb. Fair warning, be careful – there are some seriously NSFW areas just waiting to be clicked on. *naughty grins*
Loving a Straight Boy was released September 9th…I'm pretty damn excited about that! Woohoo!
You'll find it, along with a few others, under Free Reads. All of my other work can be found under Books.
The "NSFW Blog" link leads to my VERY adult and personal musings (and naughty pictures) – most of which revolve around sex and my enthusiasm for/experiences with Tease-n-Denial and Male Chastity.
The Blog link contains information and posts relating to writing and books. I'd consider it PG13 *winks*
Under the 'Connect' you'll find shortcuts to Facebook, Goodreads, Twitter, Tumblr, etc. Hit me up, I'd love to hear from you! (Twitter and Tumblr contain VERY adult-oriented material.)
Thanks so much for dropping by!
Peace,
JLT =)
#pleasurethroughdenial