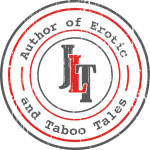 Hiya!
Welcome to my twisted little corner of the interwebs. Fair warning, be careful – there are
some seriously NSFW links just waiting to be clicked on. *naughty grins*
Omega Born was released May 9th, 2021…I'm pretty damn excited about that! Woohoo!
You'll find Omega Born under the Books link above.
The Blog link contains information and posts relating to writing and books. I'd consider it PG13 *winks*
Under the 'Connect' you'll find shortcuts to Facebook, Goodreads, Twitter, NewTumbl Tumblr, etc. Hit me up, I'd love to hear from you! (Note: Twitter and Tumblr NewTumbl contain VERY adult-oriented, NSFW material.)
Thanks so much for dropping by!
Peace,
JLT =)
#pleasurethroughdenial