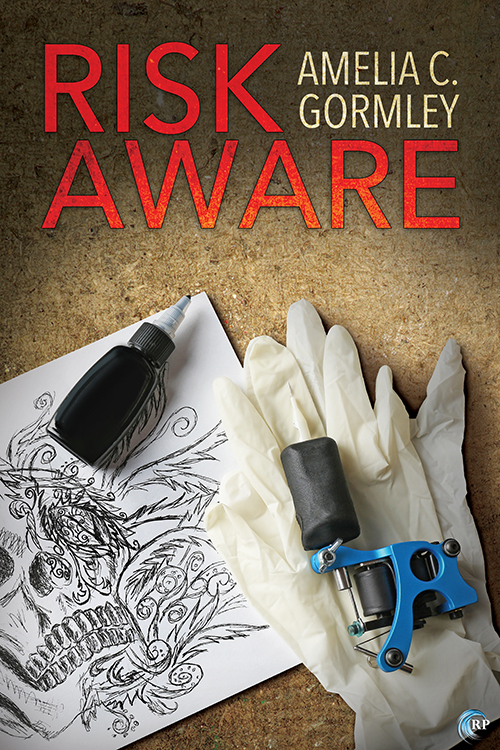 Hey Everyone!
So we all have them, those authors who are on our 'auto-buy list', right? Amelia C. Gormley is on mine. She's one of those writers who never disappoints, who always exceeds my expectations, and who comes up with amazingly inventive storylines.
I'm so excited to have just preordered my paperback copy of her pending release, Risk Aware. Gah, I just know it's gonna effin' rock! Fair warning, Ms. Gormley, I'll be seeking you out at GRL 2016 for a signature. *winks*
---
Blurb
Tattoo artist Geoff Gilchrest is convinced his life is some sort of cosmic joke. Why else would a hemophiliac also be a masochist? He's given himself more than one elbow bleed since puberty just doing what guys do when alone and bored, so forget about whips and chains. How many partners would contemplate playing with someone even a mild flogging could kill?

Gallery owner Robin Brady knows he can deliver what Geoff needs: to be taken to the edge of danger but never beyond. But Robin came to Saugatuck to get away from the leather scene and heal from a betrayal by his former sub, so he's not sure he should get involved with Geoff. His ambivalence isn't helped by the fact that Geoff's unwillingness to communicate about his well-being hits Robin in some very raw places.

Geoff's hemophilia isn't the obstacle he thinks it is. Instead, a lack of trust—on both their parts—is what could end them before they have a chance to begin.
---
Links

Riptide Publishing Buy Link
Amelia's Website
Risk Aware on Goodreads
GayRomLit (GRL)

---

Peace,
JLT
JosephLanceTonlet.com
#pleasurethroughdenial